The UK is seeing a rise in "at-home creativity" with a surge in Brits interested in starting podcasts, YouTube channels, DJing and producing music at home since the pandemic hit in March.
That's according to new data which reveals Leicester as the YOUTUBE creator capital of the UK, seeing the biggest monthly increase in interest per 100,000 people. Analysing search data from pre and post March 2020, Audio-Technica have compared monthly interest growth to reveal the top fifteen cities which are experiencing an at-home creator boom.
OfCom data suggests that 7.1 million people in the UK listen to podcasts each week, doubling over the past five years[1]. This continued growth is providing new opportunities for creatives to express themselves, as well as alternative income streams through digital channels.
Leicester is the YouTube capital 
The data also reveals that Leicester has seen the biggest growth in interest in YouTube with 57 people per 100,000 researching how to start a YouTube channel each month. That's an increase of 32 people per month in comparison to the same period last year! SuperSaf, is a local, tech-focused, vlogging sensation and has chalked up an impressive 1.62 million subscribers.
https://www.youtube.com/SuperSaf 
Leicester in the top 4 "at-home creator capitals" of the UK 
Bristol saw the biggest  increase in the number of people looking to start podcasts, youtube channels, DJing at home and producing music out of anywhere in the UK. When comparing interest since March against the same period in 2019, there has been an average increase of 42 monthly searches per 100,000 people. Just behind Bristol was Wolverhampton, Aberdeen and Leicester respectively.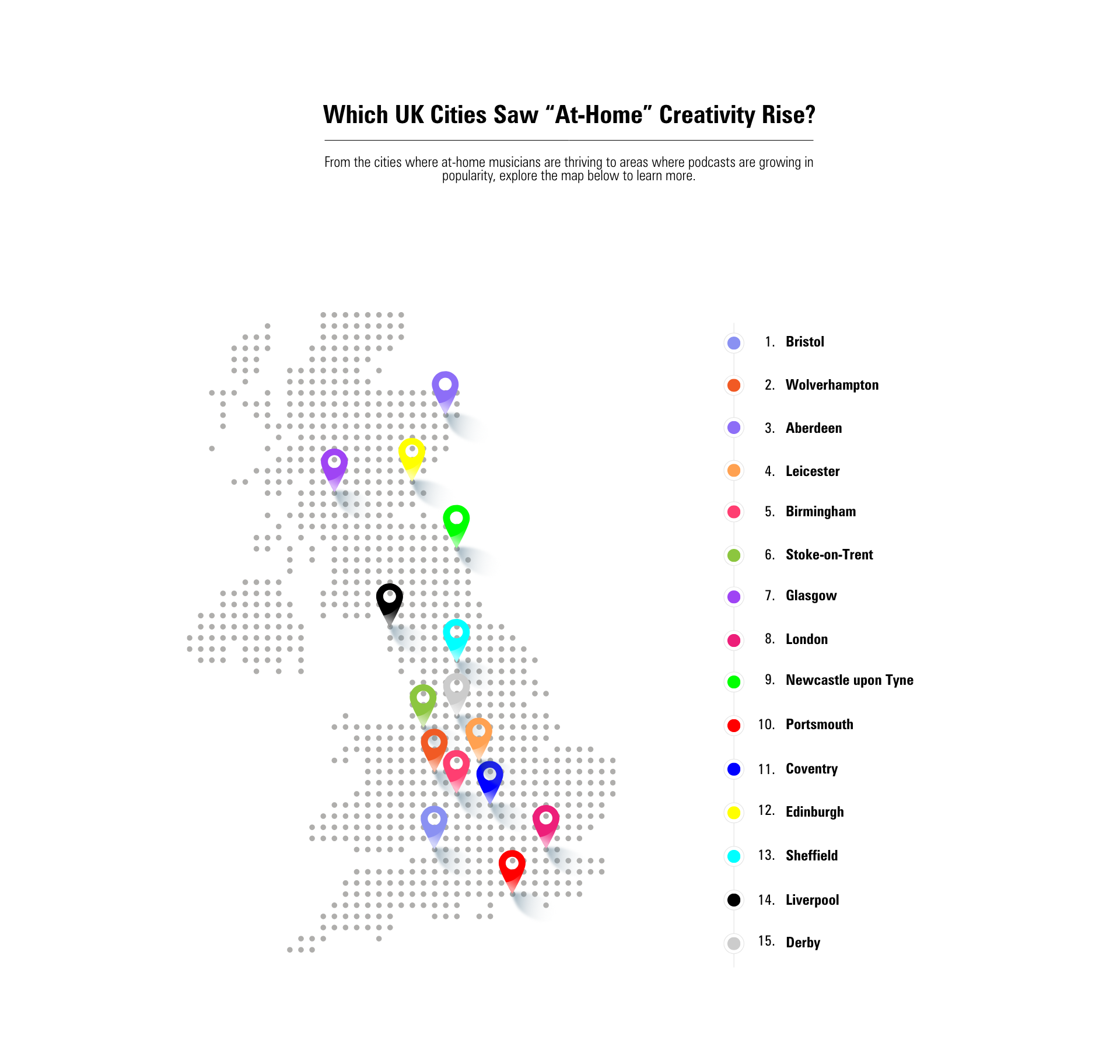 Sarah Yule, sales and marketing director at Audio-Technica said,
"It's been a challenging year for creatives in the UK and this research just goes to show that despite everything, the nation's appetite to express its creativity is stronger than ever. 
Digital channels can provide a much needed outlet for those at home right now and so we wanted to let creatives know that they are not alone. Hopefully, these tips and advice will be useful for anyone considering starting up a podcast, vlog or music recording at the moment." 
Top tips from Sarah at Audio- Technica for starting out as an "at-home creator"
Go with what you are most passionate about. This is the most basic tip you'll hear, but also the most important one. When it comes to creativity, it's always easier and often much more fulfilling to pursue something you really love.
If you decide to start a podcast or YouTube channel, make sure you pick the right format. Are you best suited to delivering a narrative, speaking to guests your listeners would be interested in, or presenting as a co-host with friends?
Getting the right equipment is absolutely essential, giving your creative output the polish it needs to stand out in a crowded field. That could mean editing software for your podcast or vlog, or specialist DJ turntables to master your mixing skills.
If your podcast or YouTube channel starts to grow successful, consider looking into additional revenue streams like Patreon, brand partnering or YouTube's channel memberships, which mean viewers can support your channel through monthly payments.
To get a head start in your creative field, think about grabbing a ready-made Creator Pack. Our affordable selection of equipment has been hand-picked with quality in mind, coming equipped with a crisp ATR2500x-USB Microphone and immersive ATH-M20x Professional Monitor Headphones, as well as a desk boom arm and handy tripod stand.